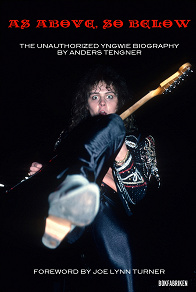 As Above, So Below : The Unauthorized Yngwie Malmsteen Biography
As iconic rock guitarist Yngwie Malmsteen approaches his 51st birthday, well-respected rock journalist Anders Tengner takes a look back at the Swedish rock god's career and life. Malmsteen's finesse, speed and style took the music world by storm when he first came to international attention in the early 1980s. His talent and personal life have remained at the center of that storm ever since.
As Above, So Below: The Unauthorized Yngwie Malmsteen Biography reveals how Malmsteen became who he is today, for better or worse. His is a story fueled by fury, extreme passion and determination. On the way to achieving his dream, Malmsteen has had to make great sacrifices of both personal comforts and people. The price has been high, for both Yngwie and those closest to him.

For this revealing book, Tengner, who has personally known Malmsteen since their teens, conducted in-depth interviews in both the U.S. and Europe with those who were actually present on Malmsteen's journey. Everyone—from former bandmates, ex-wifes and girlfriends, classmates, managers and more—shares intimate anecdotes, giving the reader a unique and sensitive insight into what makes Yngwie tick. Since Tengner was unencumbered with having to gain Malmsteen's approval for this book, his unauthorized autobiography is able to present the truth behind the public persona.
-
---