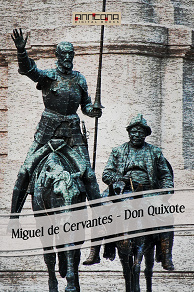 Isbn:
978-91-7605-222-8
Publisher:
Anncona Media
Category:
Novels
Humour
In english
Accessible since:
April 2014
---
Don Quixote
Don Quixote, fully titled The Ingenious Gentleman Don Quixote of La Mancha (Spanish: El ingenioso hidalgo don Quijote de la Mancha), is a Spanish novel by Miguel de Cervantes Saavedra. It follows the adventures of Alonso Quixano, an hidalgo who reads so many chivalric novels that he decides to set out to revive chivalry, under the name Don Quixote. He recruits a simple farmer, Sancho Panza, as his squire, who often employs a unique, earthly wit in dealing with Don Quixote's rhetorical orations on antiquated knighthood. Don Quixote is met by the world as it is, initiating such themes as intertextuality, realism, metatheatre, and literary representation.

Published in two volumes, in 1605 and 1615, Don Quixote is considered the most influential work of literature from the Spanish Golden Age and the entire Spanish literary canon. As a founding work of modern Western literature, and one of the earliest canonical novels, it regularly appears high on lists of the greatest works of fiction ever published. It has had major influence on the literary community, as evidenced by direct references in Alexandre Dumas' The Three Musketeers (1844) and Mark Twain's Adventures of Huckleberry Finn (1884). In a 2002 list, Don Quixote was cited as the "best literary work ever written".

The novel's structure is in episodic form. It is written in the picaresco style of the late 16th century, and features reference other picaresque novels including Lazarillo de Tormes and The Golden Ass. The full title is indicative of the tale's object, as ingenioso (Spanish) means "quick with inventiveness" marking the transition of modern literature from Dramatic to thematic unity. The novel takes place over a long period of time, including many adventures all united by common themes of the nature of reality, reading, and dialogue in general.

When it was first published, Don Quixote was usually interpreted as a comic novel. After the French Revolution it was popular in part due to its central ethic that individuals can be right while society is quite wrong and seen as disenchanting—not comic at all. In the 19th century it was seen as a social commentary, but no one could easily tell "whose side Cervantes was on". Many critics came to view the work as a tragedy in which Don Quixote's innate idealism and nobility are viewed by the world as insane, and are defeated and rendered useless by common reality. By the 20th century the novel had come to occupy a canonical space as one of the foundations of modern literature.

Miguel de Cervantes Saavedra (1547-1616) was a Spanish novelist, poet, and playwright. His magnum opus, Don Quixote, considered to be the first modern European novel, is a classic of Western literature, and is regarded amongst the best works of fiction ever written. His influence on the Spanish language has been so great that the language is often called la lengua de Cervantes ("the language of Cervantes"). He was dubbed El Príncipe de los Ingenios ("The Prince of Wits").
---