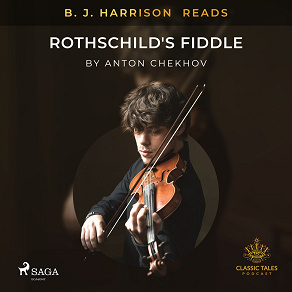 Isbn:
978-87-2657-261-2
Publisher:
Saga Egmont
Category:
Novels
Historic facsimile
Romance
Accessible since:
October 2020
Narrator:
B. J. Harrison
Length: 26 minutes
---
B. J. Harrison Reads Rothschild's Fiddle
Yakov Ivanov is a seventy-year-old coffin maker and fiddler who hates Jews. Rothschild is a poor Jewish flautist, who plays in the village orchestra. When Yakov's wife, Martha, becomes seriously ill he starts building her coffin in preparation for the worst. Unfortunately, the fiddler's fears become true when his wife dies and he sinks into a deep depression. Rothschild pays Yakov a friendly visit, but what happens is not pleasant at all for the poor Jew.

How is the violinist's life going to change after his wife's death? What will happen with Rothschild when he pays the visit to Yakov? What will actually happen with the old coffin maker at the end of this story?

This short story about poorness, hatred and grief was written and published in 1894.


Anton Pavlovich Chekhov (1860 – 1904) was a Russian playwright and a master of the short novel. Besides literature, Chekhov was also practicing as a medical doctor for a large part of his life. Some of his most popular works are the plays "The Seagull", "Uncle Vanya" and "The Three Sisters", and the short stories "Ward No. 6" and "The Lady with the Dog".

B. J. Harrison started his Classic Tales Podcast back in 2007, wanting to breathe new life into classic stories. He masterfully plays with a wide array of voices and accents and has since then produced over 500 audiobooks. Now in collaboration with SAGA Egmont, his engaging narration of these famous classics is available to readers everywhere.
Listen to sample
---