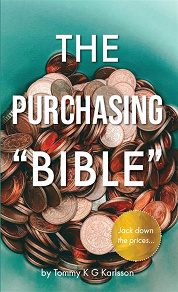 Isbn:
978-91-8941-313-9
Publisher:
Bookea
Category:
Economics & Business
Accessible since:
June 2021
---
THE PURCHASING "BIBLE"
This book aims to be a hands-on and focused guide to establishing a successful, goal-orientated purchasing organisation. An organisation which delivers results from day one. It also gives useful insights into how to "jack down the prices", starting tomorrow. The purchasing function to be a frontline function, with the commercial initiative for quick results, far beyond what's normally expected.
Why not aim for huge price reductions; 30-60% instead of the usual 3-5%? The lower level is mainly based on old habits and traditions, as well as a lack of confidence and initiative. Those habits can be changed. Besides guiding the purchasing organisation, the book can also be of great
help for the sales organisations, to gain a better understanding of the customers. Why are old reliable customers taking a new aggressive approach?
---